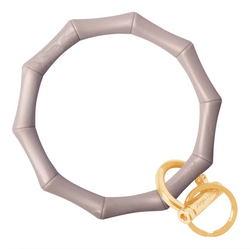 Bamboo Silicone Key Ring - Matte Silver
WRIST WORN SILICONE KEYRING
The bangle is designed to hold its shape when in use and also be easily manipulated to fit in small spaces. Made of food-grade silicone, the durable nonporous material is easily wiped clean or sanitized. Features:
* Large bangle easily slips onto wrist
* Bangle made of 100% food-grade silicone - safe for the whole family
* Non-porous materials - easily cleaned and sanitized
* Flexible bangle easily fits in your pocket or bag.

Made in United States of America