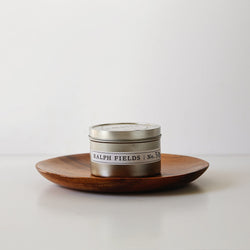 No. 50 Leather & Lace Tin Candle
Not available for shipping. To purchase online, visit ralphfields.com
No. 50  Leather and Lace 8 oz. Tin
Fill the room with the strong musk of leather then add a hint of vanilla and you have one of our most popular fragrances.
Our 8 oz. soy candles are hand-poured with our iconic hand cut label. All crafted and design with care by husband/wife duo Ralph and Meg in Graham, Texas. This candle was made for the home or those who desire a stronger throw. Great as a gift, or to liven any room with scents for all season.
Ingredients: 100% soy wax, fragrance oils, cotton wick
Burn Time: 25-30 hrs.
Never leave a candle burning unattended or in reach of children, pets or a draft. Be sure to trim the wick to 1/4" before each lighting. Do not burn for more than 3 hours at a time.
Hand-poured with love in Graham, America