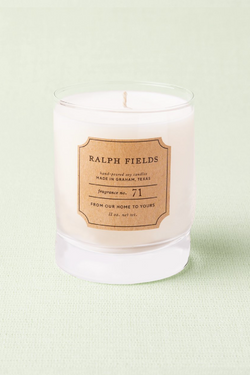 No. 71 Bourbon & Guitars Glass Candle
Our 11 oz. rock glass candles soy candles are hand-poured into our whiskey glass vessel with our hand-cut label. All crafted and design with care by husband/wife duo Ralph and Meg. Always a great gift, or to burn at home in any room no matter the season.

This vessel was made to be repurposed for whiskey, cocktails, or any other drink. Make sure to remove all wax and thoroughly cleaning with soap and water. Please do this at your own risk and be careful when handling glass.
No. 71 Bourbon & Guitars | 8 oz. tin
A clean, fresh masculine scent with citrus and woody top notes energized with floral notes and lasting earthy bottom notes.
Hand-poured & packaged in Graham, Texas
Ingredients: Premium soy wax blend, fragrance oils, cotton wick
Burn Time: 40+ hours
Instructions: 
The first burn is the most important. With the first burn you are priming the candle for great performance. You may get smaller flames and slightly less scent throw, but that is normal. 
Make sure your wax pool extends to both ends of the vessel before extinguishing. This will avoid tunneling! 
Trim your wicks to 1/4" before lighting each time. This will ensure your candle burns as clean, safe, and long as it should. 
Never leave a candle burning unattended or in reach of children, pets, or a draft.